Barbecue season is upon us but are you ready to meet the BBQ meat rush? As Summer commences, we're checking the long-range weather forecast and planning seasonal get togethers' of family and friends in the back garden. Yes, it's that time of year when men and women stock up on BBQ meat, don the aprons, grab the tongs and show off their prowess in the outdoor kitchen!
Irish weather isn't always the most favourable for al fresco dining, but a look ahead indicates that Northern Ireland weather is set to pick-up in the middle of the month. We're predicting that Saturday 15th and Sunday 16th June are going to be the most popular barbecuing days this month. With estimated temperatures of 18 and 19◦C the optimistic folk of Ireland will be flocking to their local butchers, delicatessens, retailers and food service outlets to stock up on the best of your BBQ meat ranges. Don't get caught out with insufficient stocks.
A Meat Merchant's BBQ Checklist
Steak Burgers – no BBQ is complete without a flame grilled gourmet steak burger. Affordable and popular with both adults and children, this is the No. 1 essential on the BBQ meat shopping list. UMC stock a range of locally produced beef and pork burgers, both fresh and frozen.
Sausages – popular all year round for breakfast, lunch and dinner meals, it'll come as no surprise that you need to top up your sausage stocks for the summer BBQ rush. Like burgers, they're a huge hit with the big kids and little ones. Choice is important as flavoured sausages are on trend however traditional pork, pork and leek and pork and apple sausages continue as long-standing favourites in the UK and Ireland. Pork and chilli and pork and black pepper sausages also appeal to those who like things a little hotter. Beef sausages, whilst less popular than pork are still a regular on the BBQ too.
Sirloin Steaks – a slightly more expensive BBQ meat option but nonetheless a popular one for local meat connoisseurs. These are perfect for smaller, intimate groups where spending a little bit extra isn't going to hurt the purse strings too much. A medium cooked sirloin from the BBQ is a special treat for meat lovers.
Chicken Breast Skewers – we are a nation of chicken lovers and chicken kebab skewers are another firm favourite on BBQ days. Our Coosters Chicken Breast Skewers can be bought in 1KG bags and are already fully cooked, so they are handy for BBQ days. You can also make your own chicken skewers with some fresh fillets, chopped peppers and sticks. Chicken skewers can be cooked in the oven and finished off on the BBQ grill for that nice chargrilled finish.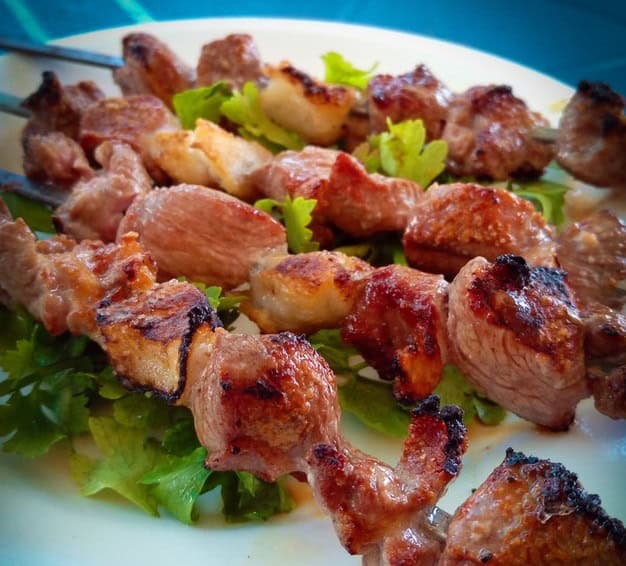 BBQ Pork Ribs – meat cooked on the bone is packed with flavour and pork ribs smothered in BBQ sauce prove to be incredibly succulent and tasty. These are best slow cooked and finished off on the BBQ, so they take a bit more work than 'burgers and bangers' but demand for pork ribs often spikes during BBQ season proving that many people consider them to be worth a bit of extra effort!
To compliment the BBQ feast..
There are a few other things to bear in mind when stocking up on the BBQ essentials to meet the needs and preferences of customers. Whilst most people will be filling their shopping baskets with the above-mentioned products, some cannot go without the products mentioned below:
Gluten Free Sausages – food intolerances have become increasingly common. It's good to have a solution for those who want to enjoy a BBQ but without the uncomfortable after-effects of eating products that have traces of wheat gluten.
Kerrymaid Cheese – Available in grated and sliced, cheese is a necessity for the perfect burger! Accompany it with some salad and sauce and get the perfect burger, every time.
Potato Cubes – Potatoes, the old faithful. Potato cubes are essential for the lovers of sides. These are ideal alongside prepared salads and vegetables on the BBQ plate! Our Mexican style potatoes halves add a bit of spice to your sides table.
Chicken Wings – wing are the Daddy of finger food and a popular starter item on the menus of many restaurants in the UK and Ireland. They sometimes make their way onto the BBQ grill as well. Hot and spicy chicken wings or wings in barbecue sauce are both popular combinations. Consider adding some wings to your meat order too.
Once you're stocked up on the BBQ meat essentials, try making up your own meat packs and BBQ deals to make life easier for your customers. A little bit of everything makes choosing what you want less complicated!
Also, go a bit further and stock up on those little extras that come in handy for customers who are in the middle of a BBQ shop. No BBQ is complete without BBQ sauce, burger baps, hot dog rolls, grated cheese, steak seasoning, some side salads, potatoes and a dessert for after! Make BBQ shopping less complicated for your customers by offering all the BBQ essentials within your shop or delicatessen!
View our range of products
Contact UMC on +44 (0)28 8775 2772 or email info@universalmeat.co.uk to place your order with your local UMC sales rep.