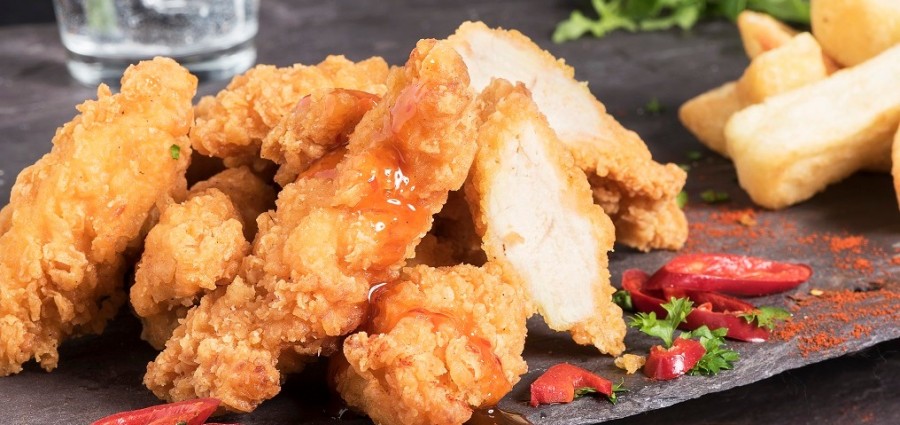 Coosters Chicken is a new range of premium chicken products created and launched by our team of award winning product development, sourcing, storage and logistics experts, here at UMC.
With over 35 years' experience in the meat industry, we pride ourselves in providing high quality products to our customers. All Coosters products are made from 100% chicken breast meat and coated in a light golden crispy batter. They have the additional benefits of being competitively priced, quick and easy to prepare, and are incredibly tasty.
Each product is pre-cooked and frozen so preparation time is kept to a minimum. They can be oven cooked from frozen in 25 minutes or cooked in only 4 minutes in a deep fat fryer. Coosters chicken is ideal for busy people who need a quick and tasty snack or dinner packed with protein and flavour. Just heat and eat!
Much time and effort has been spent in the development of our new range, which includes 8 succulent chicken products with their own unique flavours. Each has been carefully researched and selected to create the perfect taste.
Rocky Bites – bitesize chunks of tender cooked chicken breast coated in a light crispy batter.
Kick'N Chicken Goujons – succulent chicken goujons coated in a crunchy hot and spicy batter.
Crunchy Coated Goujons – cooked chicken goujons in a crunchy battered coating.
Kick'N Chicken Fillets – cooked chicken breast fillets coated in a crunchy, hot and spicy batter.
Crunchy Coated Fillets – cooked, plain chicken breast fillets in a crunchy battered coating.
Kick'N Chicken Chunks – cooked chicken breast chunks coated in a crunchy hot and spicy batter.
Chicken Breast Skewers – cooked flash-fried chicken skewers – perfect for the BBQ or smothered in sauce with salad! Choose from 50g or 100g skewer sizes.
Crispy Shredded Chicken – these crispy coated chicken breast strips are ideal for salads, wraps or in a stir-fry.
Over the last 3 months, our customers have been trying out the new range of products on their customers and the feedback has been favourable.
Coosters Chicken is currently available in many locations throughout Ireland. Check your local grocery stores, food service outlets, butchers, chip shops, cafes and restaurants for the Coosters Rooster on display, or get in touch with us to find out who your local stockists are.
If you're in the food service industry and would like to stock the Coosters range of products, please get in touch with us on info@coosterschicken.co.uk or call our sales team on +44 (0)28 3885 2772.