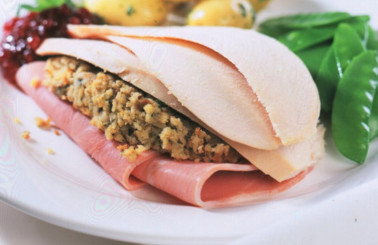 Sales Support team member, Indrea McCready loves Christmas but she has a guilty secret to share – she's never cooked a Christmas dinner before!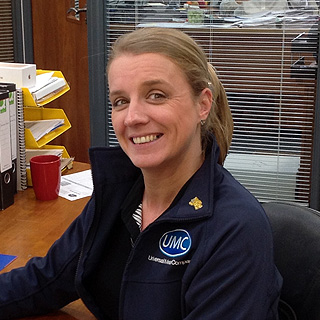 So, the team at UMC have been on hand to give Indrea a bit of a lesson in how to cook the most important meal of the year to make sure this Christmas isn't one she'll want to forget as she takes on the challenge of cooking Christmas dinner.
Before we get stuck into our guide to cooking your turkey and ham, we've asked Indrea to tell us a bit about what Christmas is like for her.
Indrea's Christmas Rituals
Hallowe'en is a distant memory and the countdown to the festive season is well and truly on – if you're like me and are totally in love with this time of year, then these next few weeks will be a joy! If you're a Christmas Scrooge, tough luck as there's no escaping the festivities! The hustle and bustle in busy towns and streets, the decorations and the Christmas markets all add to the excitement for me. I try to get my shopping done and buy all the gifts as early as I can to avoid the last-minute dash to the shops on Christmas Eve – as that is just total MADNESS! However, there's usually one that I forget – so I don't generally get to completely escape fighting the crowds to get that last selection box or Lynx Africa Set!
Pre-Christmas is the busiest time of the year in UMC – we barely get a chance to lift our heads during the working day as the turkey and ham orders come flooding in, as you can imagine – I mean who doesn't have turkey and ham at Christmas…anyone? So after a busy month, we lock the office doors and I get to kick back and relax – as I've never had to cook a Christmas lunch – EVER! The thought of it just fills me with dread. It's so good having my Christmas dinner set down in front of me every single year and not having to worry about anything other than who has to do the washing up! Which, I more than happily volunteer to do, much to the delight of my Mother-in-law, and everyone else, who after a big dinner just want to lie on the sofa and sleep.
But this year things are going to be different!
Indrea is Cooking Her First Christmas Dinner!
I've decided that I will cook. I can't believe I'm actually saying this – what on earth am I thinking? But, surely it can't be that hard, can it? Self-doubt is starting to creep in and I'm already wondering if cooking for the masses is really such a good idea after all.
Then I give myself a shake. The 'masses' is really only 4 people – myself, my husband and our 2 children, both of whom are under 10 and well used to my cooking so this should be a safe enough test environment for my first go at Christmas dinner! It'll be 'wee buns' (easy) for me as we say here in 'Norn Iron' (local slang for Northern Ireland, for the benefit of our European and International partners who may not have any idea what I'm talking about right now!).
Cooking Preparation
In preparation for this massive task I've enlisted a few friends at UMC to help me with my shopping list and give me their fool proof tips on how to cook Christmas Dinner and all the trimmings – and I want to share it with you – just in case you're a first-timer like me and need a helping hand!
I'm very lucky that I can get 90% of the items I need for my dinner from Universal Meat Company so I don't have to go to the shops for it! I type out my shopping list, email it to a colleague and it all just lands in front of me at my desk – much like my Christmas Dinner for the last 37 years!
Here's a handy list of some of the items you'll need to check off your shopping list:
Turkey / turkey butterfly
Horse shoe gammon
Cocktail sausages
Streaky bacon
Stuffing Mix
Baby boiled potatoes (maybe some potatoes for mash too)
Mixed vegetables – peas, carrots, broccoli, brussel sprouts and onions perhaps
Salt, pepper and butter to season and a drop of milk if you're making mash
Some plain flour
Stock cubes and gravy granules
Turkey glaze – honey, mustard and some cranberry sauce as an accompaniment
A large turkey dish to cook it in, a turkey baster/large spoon and some tin foil
A large saucepan with a lid for the gammon
Smaller saucepans for the veg and gravy
A carving knife (electric knives can come in handy for this)
So, get your apron on, roll up your sleeves and let's get started!
How to Roast a Turkey
Pre-heat your oven to 450F (230C).
Remove your turkey from the fridge at least 30mins to 1 hour before roasting and remove all packaging and giblets. Doing this takes the chill off the product and dries out the skin, which promotes browning and crisping.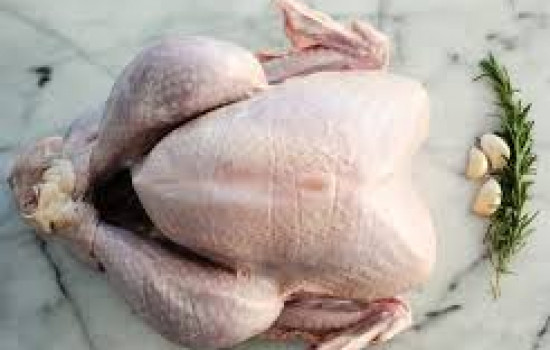 Alternatively, you can opt for a turkey butterfly instead if a smaller cut of meat is enough.
At this point stuff your turkey/butterfly with your choice of stuffing. (Don't pack it, just fill it).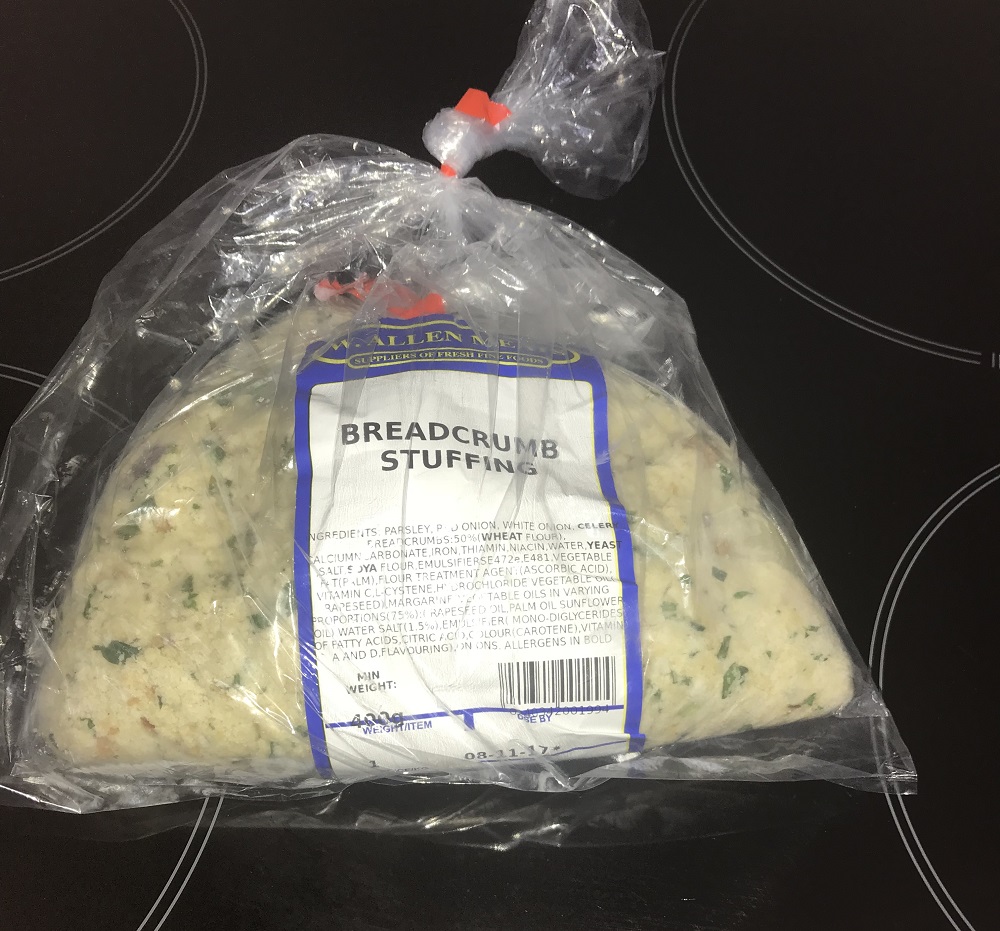 Rub salt and pepper into the skin and spread butter on the breasts.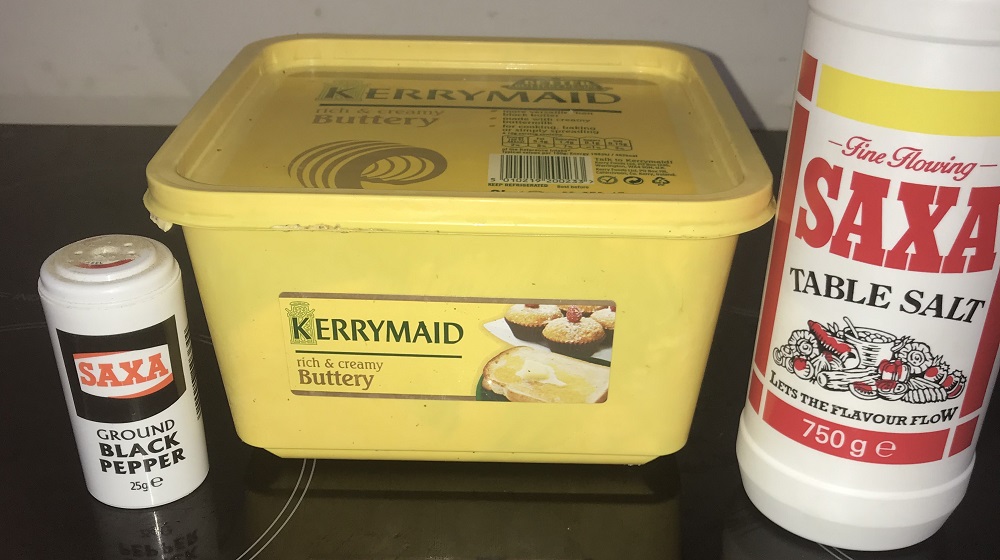 Lay over strips of streaky bacon. I'm using unsmoked rindless streaky bacon.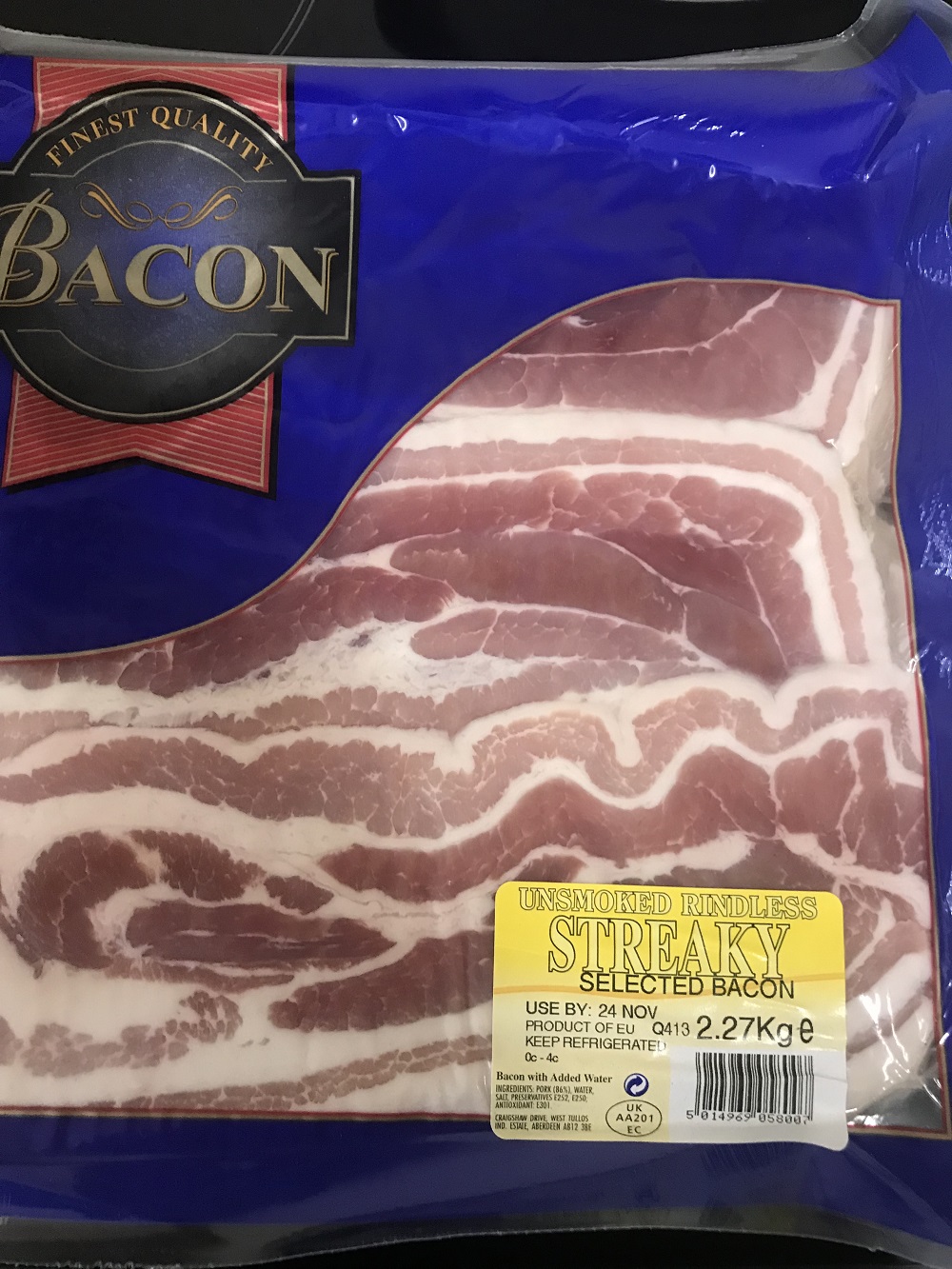 Place the turkey in the oven and turn the heat down immediately to 350F (175C)
Calculate your estimated cooking time. We recommend that the turkey is cooked 13 mins per pound – that's the expert opinion of our very own Beulah Tipping, our Sales Manager and UMC's expert cook. So for a 16lb turkey it would take approximately 3.5 hours.
Baste every 45 mins. You can tilt the pan a little and use a spoon to scoop up some of the juices in the base of the pan and pour it over the top of the turkey.
After cooking, let the turkey rest for at least 15mins. * NOTE – SAVE THOSE JUICES!
Hopefully the end product will look something like this!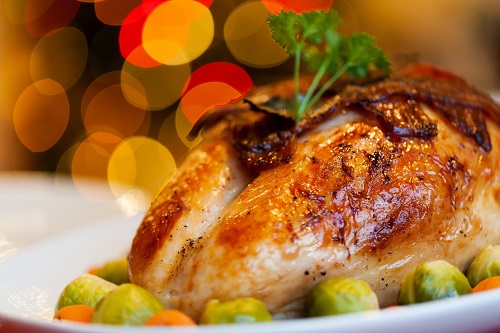 Make your Gravy
Get 4 tablespoons of turkey fat from the roasting tin and place in a saucepan over the heat of the hob. Stir in 2 tablespoons of flour to make a paste. Gradually add stock to pan, scraping up all the bits stuck to the bottom. Keep stirring until the gravy comes to the boil then reduce the heat and simmer gently for 5 mins, or until thickened to your own liking.
The next challenge is…
Roasting the Ham
Place the gammon in a large lidded saucepan and bring to the boil over a high heat (20 mins per 500g joint). Remove from the water and set aside to cool for 15mins.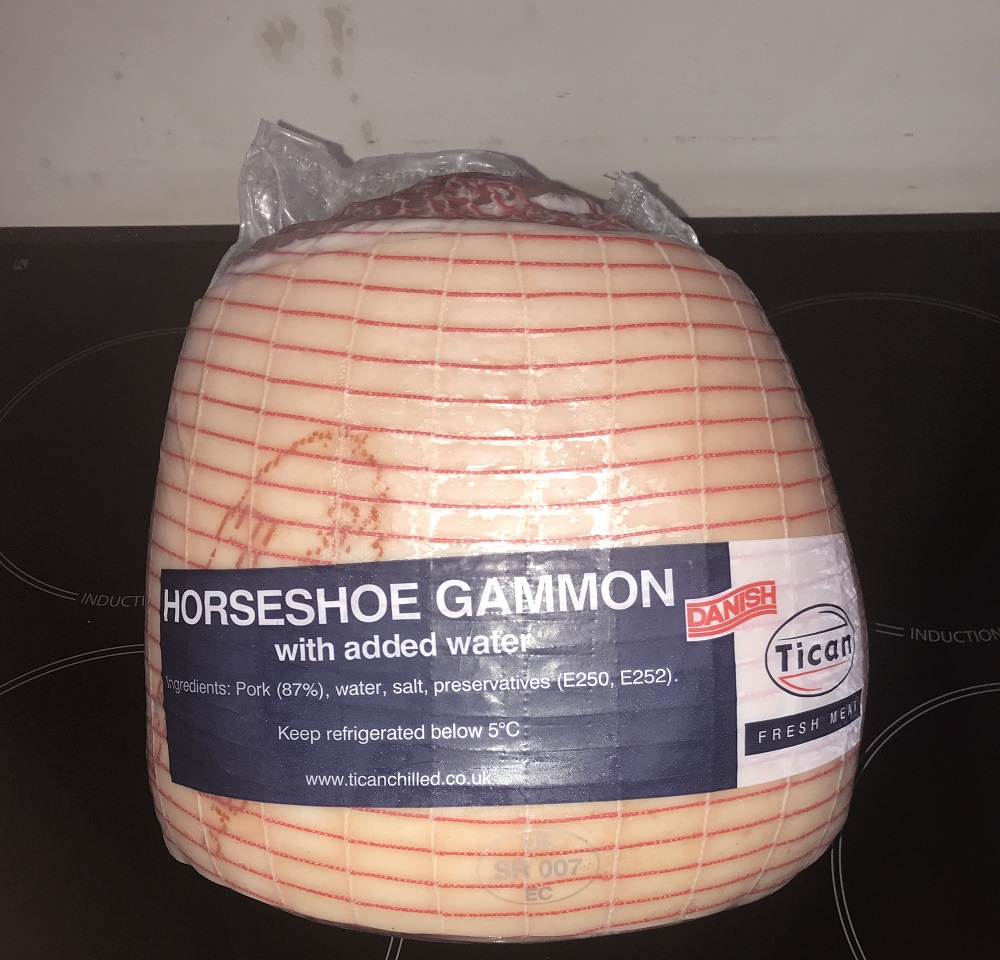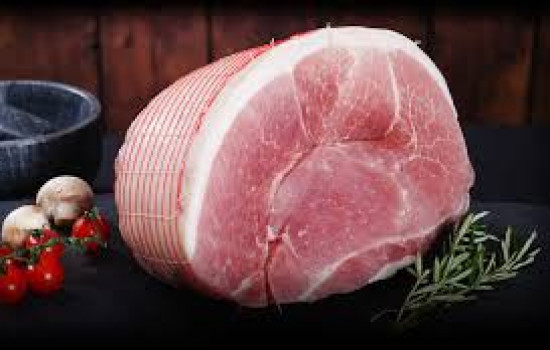 Preheat oven to 220C.
Place the gammon into a foil-lined roasting tray and wrap up well to contain the juices.
Approximately 20-30 mins before your estimated cooking time is up, add your choice of glaze (honey or mustard are popular options) and return to the oven to finish the cooking time. Continue to baste, as you did with the turkey, if necessary.
You will know the gammon is ready when the fat on top becomes glossy and golden brown. Set the gammon aside to rest for 15min before carving.
Pigs 'n' Blanket
Cocktail sausages wrapped in bacon are commonly referred to as pigs in blankets and are a firm favourite on the Christmas dinner plate in our home. You'll need some cocktail sausages and more of the streaky bacon from earlier.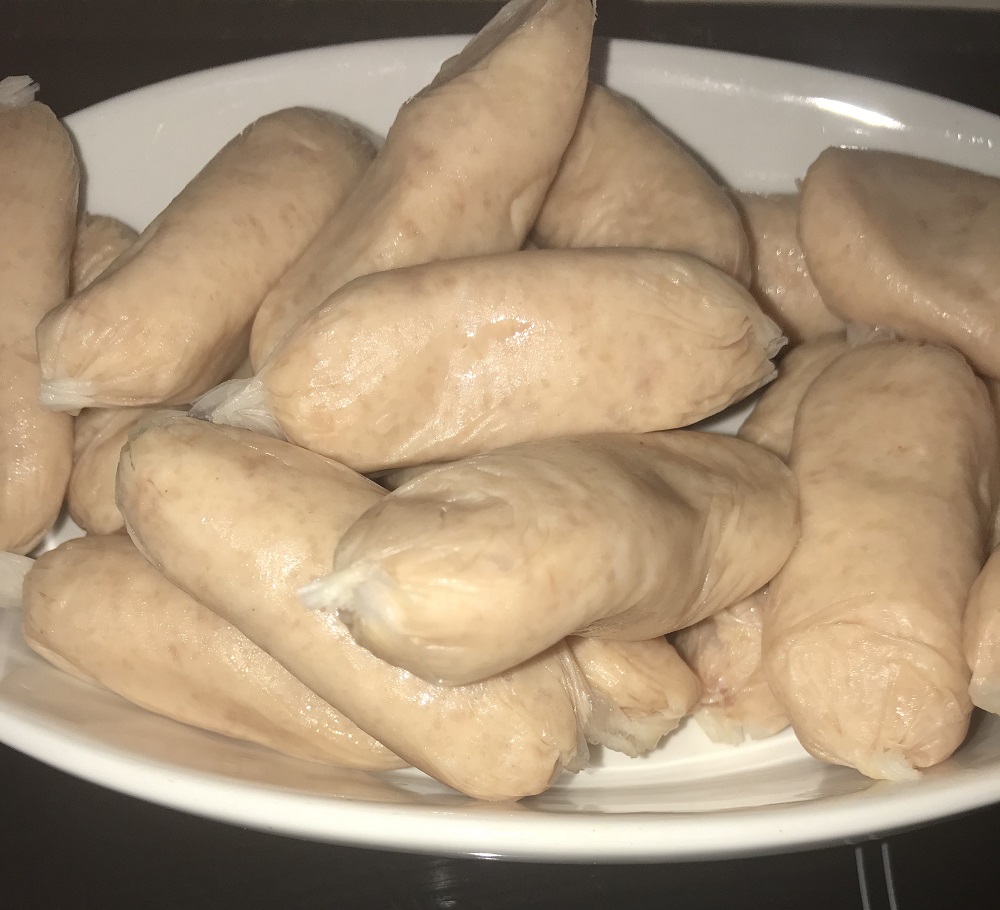 Individually wrap the cocktail sausages in strips of streaky bacon and place them in the oven. These take 30-45mins to cook. So, add to the oven to coincide with your turkey being ready.
Baby Boiled Potatoes
Our Christmas dinner needs some baby boiled potatoes and I think I'll cheat on this one! These Peka Baby Boiled Potatoes are already cooked. So, just 'ding' them in the microwave. Simple!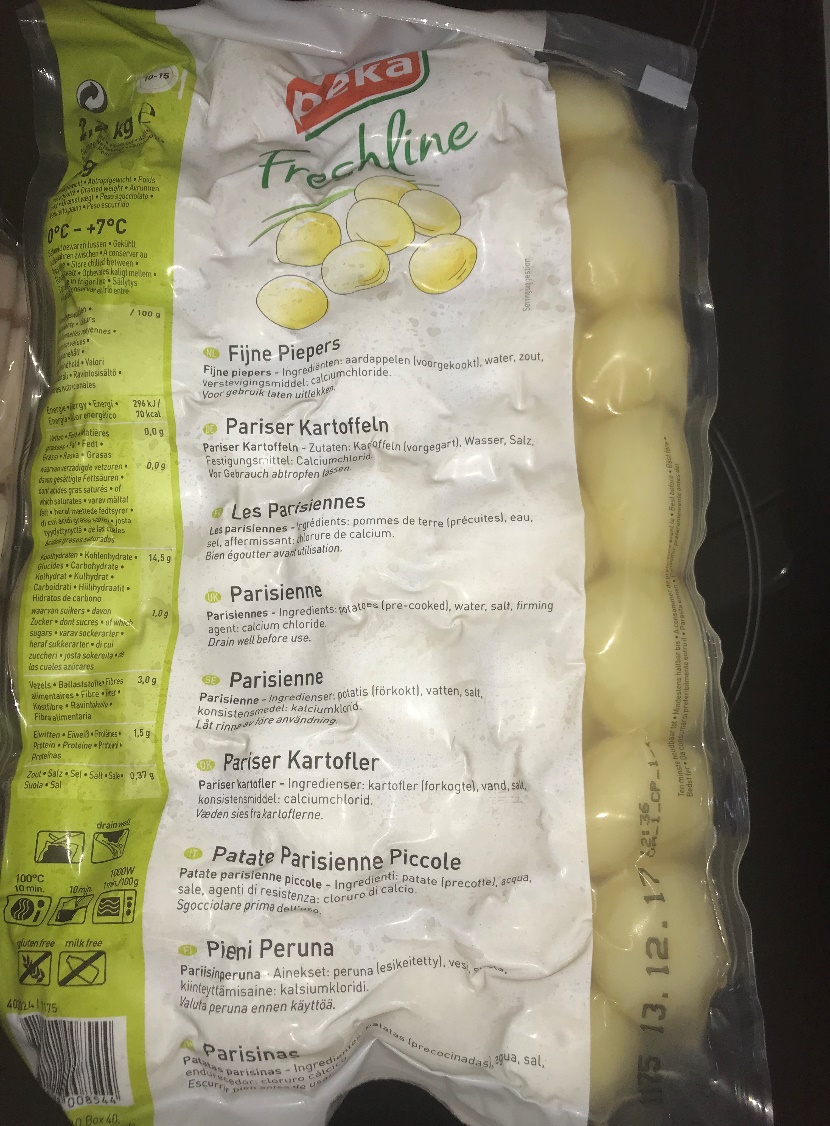 Boil the veg in a saucepan of hot water and then you're done! Alternatively, you can boil carrots and some parsnips on the hob for 10 mins and transfer them to a baking tin with a drop of oil to roast in the oven for 15 mins.
Just thinking about it all is exhausting, isn't it!
If all this food preparation and cooking has sounded a bit stressful, we have other 'cheat options' like this one. UMC stock FULLY cooked turkey and ham portions to take a lot more of the stress out of cooking! (I won't cheat this much, I promise!).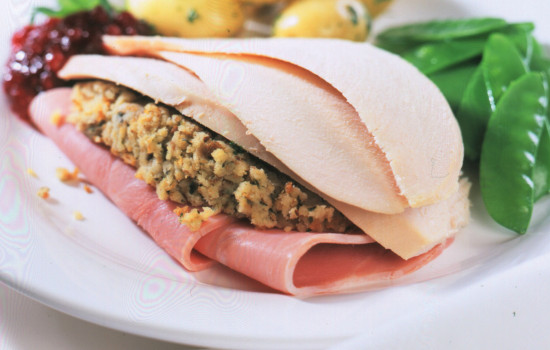 Wish me luck everyone!
If you've any tips of your own that you'd like to share with us on how to cook a great Christmas dinner (and your cheat options!), or if you'd like to order some supplies for your Christmas dinner, contact us and let us know.